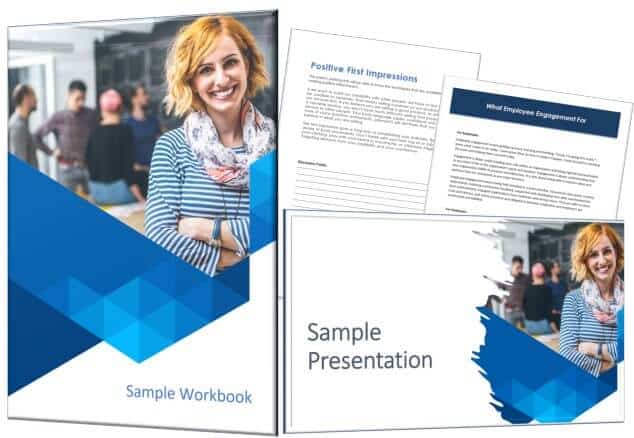 View a copy of your training workbook before our trainer delivers the session. You can have confidence that the training looks the way you need it before we present the material.  Many training teams will try to hit the mark with the training session with poorly designed workbooks/handouts or presentations. 
Our editing team will create a sample of your objectives that can be edited and tailored until you are 100% happy with the session. Our trainer will add more experience, activities and tools on top of the workbook content. This guarantees you not only get what you want in the material, we will deliver more in the training itself.  There is no pressure to continue if you feel the content team and editing does not meet your needs.
We want you to be happy with the trainer selection for your session. Our Account Managers will help match the most relevant and experienced Trainer to your team training. We then introduce the Trainer via phone or zoom so you can meet and check delivery style and methods.
If for any reason you are unhappy or less confident with the Trainer selected, just contact your Account Manager for another selection. All our Trainers are happy to provide the best service to you, and your satisfaction at Paramount is our focus.
Your Specific Needs Covered
Many employers will agree that a training session may only be as good as its presenter.  Learning from experience is what our training is all about. Providing a specific trainer for your unique needs is ideal when creating a successful training session. This is where many other providers may fail. If you are looking for something specific, unique or require an experienced trainer than contact our team for more information. We are happy to provide background information on trainers in your area.