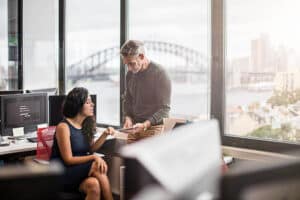 Here at Paramount we are both Australian owned and operated. Providing national training across the country. We focus only on Australia to make sure we don't over extend our services. One of our mottos are quality over quantity.
With such a great diverse country, we find that Australians require their own style of training. The level of activities and groupwork differs within our training sessions depending on backgrounds and needs of the participants.
Our trainers come from various backgrounds and experiences. We have multilingual speakers and presenters available. When it comes to selecting the best trainer for your session we match your business team with the best delivery dynamics. Our team are focused to provide you with a trainer with relevant experience that can build rapport with your team quickly to help with the content connection.
Our content team create content that is relevant to Australia. Statistics and data come from real Australian resources, including case studies and business solutions. We find that participants disconnect from material that has American spelling and grammar or content that is not relevant.
Here are some of the benefits of an Australian training session:
Australian statistical facts

Relevant information to local council areas
Correct spelling and grammar for Australian English
Applicable legislation eg (Anti-Harassment Laws, Discrimination, Health etc)
Images and styling helping participants connect with material
Understanding of local issues such as flood, disaster, health pandemics
All our material is tailored to suit your needs with the above information in mind. If you would like more information on any of our services, please feel free to contact our team.