Mastering the Art of Persuasive Presentations, for Sales Professionals
In the realm of sales it's not about the product or service itself that convinces buyers; it's also about how that offering is presented. That's why exceptional salespeople continuously strive to refine their presentation skills. Whether you're, in a boardroom setting or having a coffee meetup your presentation style can make or break a deal. Here are some essential presentation skills specifically tailored for sales professionals.
Share stories of success customer testimonials or situations where your product or service made an impact. Compelling narratives have the power to evoke emotions and make your offering more relatable.
1. Make the most of aids
When used effectively visual aids can greatly enhance your presentation. Incorporate slides, props or demonstrations that are clear concise and relevant. However, it's important not to rely on them; they should complement your speech rather than replace it.
2. Engage in listening
While it is your responsibility to present avoid dominating the conversation. Take the time to listen to clients and pay attention to their questions, objections or feedback – these insights can be invaluable. By addressing their concerns in time you demonstrate expertise and dedication.
3. Handle objections gracefully
Rejections and objections are natural, in sales situations. Of viewing them as obstacles consider them opportunities for growth. Respond to objections with information, in a manner and guide the conversation back towards highlighting the benefits of your offering.
4. Display open body language
Non verbal cues can communicate volumes of information without words being spoken.
Maintain eye contact use open body language and avoid crossing your arms. Your nonverbal cues should reflect confidence and approachability.
Keep in mind that when it comes to sales it's not, about offering a product or service. It's, about providing an experience finding solutions and building relationships.

Strategies in Presentation Skills For Sales People
Delivering a presentation is crucial, for salespeople. They must effectively communicate the value of their products or services address objections. Persuade clients to take action. Here are some tailored strategies to help salespeople enhance their presentation skills;
1. Understand Your Audience;
Conduct research on clients to grasp their pain points, interests and needs.
Customize your presentation to address their concerns and demonstrate how your product or service can provide solutions.
2. Weave a Compelling Narrative;
Stories have an impact compared to facts and figures.
Incorporate anecdotes, case studies or narratives into your presentation to make it more memorable.
3. Use Visualal Aids;
Visual slides can reinforce your message without causing distractions.
Avoid slides. Instead use infographics, charts, images and concise bullet points.
Tools like PowerPoint, Keynote or Prezi can be helpful in creating presentations.
4. Engage Your Audience;
Pose ended questions to encourage discussion.
Incorporate interactive elements such as polls or quizzes.
Encourage feedback or questions throughout the presentation than just, at the end.
5.Craft a Captivating Introduction and Conclusion;
Begin with an attention grabbing statement, thought provoking question or intriguing fact.
Wrap up with a call, to action and a summary.
6. Master the Art of Active Listening;
Pay attention to your audiences cues. Adapt accordingly.
Address objections and questions empathetically showing understanding.
7. Keep it Succinct;
Focus on highlighting the selling points.
Steer clear of industry jargon or technical terms unless you're confident that your audience is familiar with them.
8. Display Expertise in Your Product;
Have knowledge about your product or service.
Be ready to provide answers to inquiries or offer demonstrations if necessary.
9. Demonstrate Authenticity and Enthusiasm;
Let your genuine passion shine through; it can be contagious.
Building trust through authenticity is crucial, in sales interactions.
10. Employ Effective Nonverbal Communication;
Maintain posture and establish eye contact.
Avoid distracting habits or gestures; instead use appropriate gestures to emphasize key points.
11.Address Objections, with Grace;
Take into account any concerns and be prepared to respond.
Use the "Understanding, Empathy, Experience" approach; "I understand your perspective. Many others have felt the way. However, what they discovered is…"
12. Practice and Seek Feedback;
Rehearse your presentation times.
Record yourself. Present to a colleague or mentor for valuable feedback.
13. Stay Informed;
Sales is a field. Stay updated on the sales techniques, industry developments and presentation tools.
14. Use Technology;
Leverage tools such as CRM software to gain insights into clients and customise presentations accordingly.
Consider using applications or tools that allow potential clients to engage with your product in real time.
15. End with a Clear Next Step;
What action would you like your audience to take next? Schedule a follow up meeting test out a product sample or sign up for a trial?
Be specific and unambiguous, about the course of action.
Salespeople can greatly enhance their ability to convey the value of their products or services forge connections, with clients and ultimately boost their sales conversions by honing their presentation skills using these proven strategies.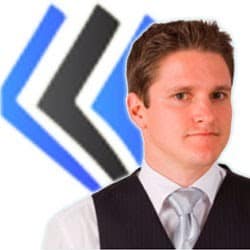 David Alssema is a Body Language Expert and Motivational Speaker. As a performer in the personal development industry in Australia he has introduced and created new ways to inspire, motivate and develop individuals.
David Alssema started his training career with companies such as Telstra and Optus Communications, and then developed Neuro-Linguistic Programming (NLP) within workplace training as principal of Paramount Training & Development.
As an author/media consultant on body language and professional development David has influenced workplaces across Australia. He contributes to Media such as The West Australian, ABC Radio, Australian Magazines and other Australia Media Sources.